Apple unveils iPad Air: 5th Generation iPad
KoliTech Nigeria
---
Home
|
Computers
|
( 1 )
|
Subscribe
Posted by
Felix Okoli
on Thursday October 24, 2013 at 15:37:51: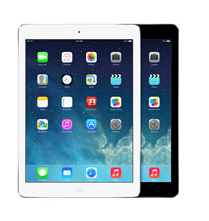 What is iPad Air? Well, it seems that the previous generations of the iPad started from the ground and were all aiming to fly and it happens that the 5th iPad was born with wings. You can call it a sort of evolution of a species.Why is iPad 5 called iPad Air? It is probably because it weighs less at only 1 pounds and can do a bit more than what previous iPads could do. The iPad Air is lighter, faster and could almost fly without wings.Apple announced unveiled iPad 5 on Tuesday with a lot of media coverage.
The product will start being available as from November 1 2013. It is the latest iPad as at this date.If you ask me, I'd say the iPad Air is not much different from the iPad mini with Retina display apart from its thickness and tech support. Also, apart from the retina display, thickness and tech support, it's also not much different from the iPad mini.Some features of the Apple iPad Air
====================
Here are some features that are included in this wonderful deviceThickness: 7.5mm thin 20% thinner but still more solid and durable so don't bother about breaking or being less shock proof.Improved Retina display: Just like the iPad mini, iPad Air comes with a retina display technology but higher pixel density.Weight: It weights only 1 pound making it 28% lighterProcessor: Has an a7 chip processor and an M7 motion coprocessor making it have a quicker response rate when playing games and using apps.Software: Works with IOS7 Advanced wireless connectivity: easily detects wireless connections and connects.Screen display 9.7 inch Battery life: It can operated up to 10 hours after a full chargeCamera: Facetime(1.2MP front) and iSight camera(5MP back)Tech support: 90 days warranty is included.Wireless connections: Bluetooth and WiFi supportedApps: Access to over 450k apps in the appstore while it also has inbuilt apps that allows one to send email, internet browsing, video calling, video and photo editing as well as reading documents.Sim card: It uses a Nano Sim (12.3 mm by 8.8 mm by 0.67 mm in size)Charging: It comes with a micro HDMI port that allows for charging using a USB cable or power adaptor.Siri: The intelligent assistant option is still available which allows you to send messages, reminders and so on with just your voice.What the entire package contains:
- iPad Air
- Lightning to USB Cable
- 12W USB Power AdapterIn General, iPad Air has all the featuers of the iPad mini with retina display and a bit more. Estimated Price: The iPad Air starts selling from $499(About NGN95,000 in Nigeria)
---
Comments:
Re: Apple unveils iPad Air: 5th Generation iPad
Reply by Seyi on Friday November 1, 2013 at 8:2:26: Apple never seems to give up and Nokia/Microsoft are also trying to compete. I noticed that Nokia has released their own new tablet called Lumia 2520. I wonder if it is better to buy a Nokia tablet or iPad Air.
---