Nokia Lumia 2520 is Nokia's first tablet
KoliTech Nigeria
---
Home
|
Computers
|
( 1 )
|
Subscribe
Posted by
Felix Okoli
on Thursday October 24, 2013 at 16:16:19: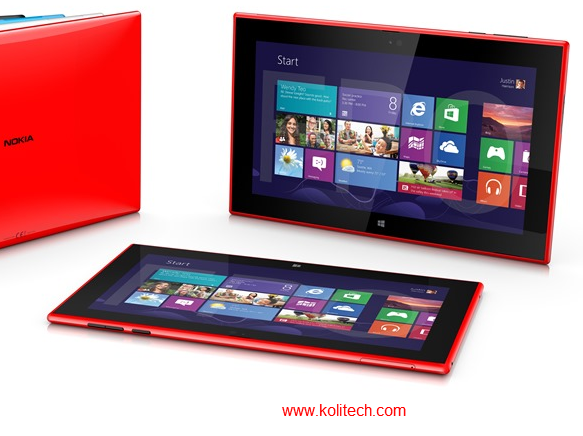 A few days ago, Nokia released what we'd call their first tablet computer. This is the first tablet ever released by Nokia to the market ever since we've known Nokia and this is probably as a result of Microsoft's recent decision to invest in the latter.It seem they wanted the launch to coincide with Apple's latest release of the iPad Air as it was done a few moments after. Nokia's new and first tablet comes with a 10.1 inch screen displaySome features of Nokia Lumia 2520 tablet
===================
Camera: It comes with a powerful 6.7MP back camera and a 2MP front facing cameraBattery life: Up to 11 hoursMemory: Internal memory of 32GB which is also expandable to 32gb of external storage using a microSD card.Operating system: Lumia 2520 runs on the Windows 8.1 operating system. This comes with free microsoft suite and apps.Apps: Apart from free Microsoft apps, it also comes with some free Nokia apps such as storyteller, Video Director, Music and mapsColours: It comes in 4 colours - Red, Cyan, Black and White.Connectivity: It works with both LTE and WiFi connectionsProcessor: It works with a Qualcomm Snapdragon 800 chipset processor.The estimated price for the Nokia Lumia tablet will be from $499(N80,000). There is also a Nokia Power Keyboard being sold for $159(N26,000) that is suited for the tablet.
Well, for most people who know Nokia, the company is basically the bastion of mobile phones and did rule the mobile world until stiff competition from smartphone brands started heating up. Although one would say that Nokia mobile phones were a bit like PCs themselves, giving the smart technology behind them, going into the production of tablets is something that is coming a bit late but not too late.There is no clear dominance yet of who rules the tablet market even though Apple rides the chair for now, tech companies from Asian countries and Android platforms are catching up quickly. While most Chines Android tablets are made so affordable at less than a $100, tablets from Apple and Nokia are already priced at over $400 each.
---
Comments:
Re: Nokia Lumia 2520 is Nokia's first tablet
Reply by Ego Godsent on Sunday November 3, 2013 at 12:58:13: Its quite innovational that nokia wanna be amongs d tablet rulers, though they are world's no.1 in mobility technology but theirs are kinder too high up, if it were nokia who produce the techno phathom A,A then no one would b able to go for it nokia should reconsider consumers in Africa and do something drastic about their pricing.
---
Re: Nokia Lumia 2520 is Nokia's first tablet
Reply by Rev. Barnabas Agbai on Wednesday January 8, 2014 at 14:48:14: Nokia's realease of their first tablet pc - Nokia Lumia 2520 - is quite amazing. Nokia has ever been known to be rated high in the world of mobile phone. I hope that Nokia is going to go skyhigh in the world of tablet pc although they are joining the race late. I sincerely do appreciate Nokia Lumia 2520 tablet. It is really more wonderful in all its specifications and price than Apple ipad Air. However, as Nokia's first tablet to be released, I plead that they cut down the price a little bit so as to attract patronage. Thanks and God bless!
---