Introducing the Kindle Fire HDX series
KoliTech Nigeria
---
Home
|
Computers
|
( 1 )
|
Subscribe
Posted by
Felix Okoli
on Tuesday October 1, 2013 at 17:42:56: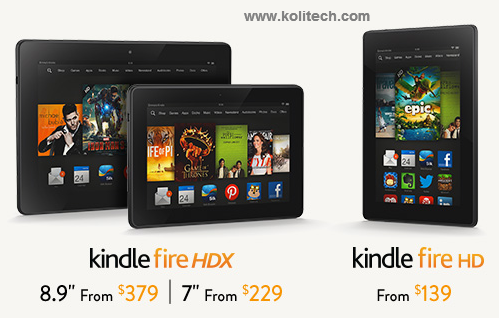 I've used the Kindle Fire hd tablet for quite a while now, actually about 1 year since I got it around September 2012 and it's 2013 already. If you ask me, I'd tell you that it's quite a smart and efficient device that hardly slows you down. It can do a lot of things you can do on your computer as long as you have the right app from it. For Kindle users, there is already a huge market for apps and once is free to choose the ones he want to install on his device.There is a new Kindle device in town and this one supersedes the Kindle Fire HD. Amazon's latest generation of Kindle tablets at least for 2013 is called the Kindle Fire HDX series. The Kindle Fire HDX is available for pre-order at the Amazon store at a price of just $229.Yes, there is an X after the former Kindle Fire HD, which goes to show that this is an improvement over its predecessor which also was an improvement over the original Kindle Fire tablet.Kindle Fire HDX tablets come with more speed, portability and MayDay. MayDay is a new button that can connect the Kindle user to a Tech expert when using his device. The Kindle HDX family consists of 2 main new tablets which are the 7 inch Kindle Fire HDX and the 8.9 inch HDX.Amazon has also removed the camera in the old Kindle Fire HD to produce a cheaper but yet effective new Kindle Fire HD. Also retained is the 8.9 inch Kindle Fire HD which comes with a camera.FeatuRes of the Kindle Fire HDX
===========
The 2 Kindle Fire HDX tablets come with bluetooth, WiFi, camera and at least 16 gb of internal memory storage. You can choose to increase the memory size to as much as 64gb if you want.WiFi: When you desire to connect to a Wireless network for internet services, you can do this easily with your Kindle Fire HDX. It comes with a dual band, dual-antenna Wi-Fi that allows it to easily detect WiFi signals for faster internet connections. This is mostly useful when streaming media online and you want faster speeds which 4g SIM cards may not be able to provide.Cameras: The 7 inch Kindle Fire HDX comes with a front facing camera while the 8.9 inch HDX comes with both front and rear end cameras for taking pictures and recording videos.Pricing: AMazon Kindle Fire HD starts selling from $229 and $379 for the 7 inch and 8.9 inch models respectively.Great Sound: The Kindle Fire HDX comes with a fantastic sound quality which is even better than most laptop.s You could even connect the audio to external speakers to experience HD quality. You can also decide to buy an earpiece to use with your Kindle or just use the external speaker as it is. KFHDX audio output is powered by Dolby Digital Plus.Light in weight: Compared to previous Kindles, the HDX is really much lighter and yet tough enough to withstand shock. This makes it more portable to use and carry about.What you can do with a Kindle Fire HDX
==========
Need I mention what you can do with this great device? Well quite a lot and these includes the following:- You can browse the web
- You can watch hd videos
- You can connect your device to a bigger hd tv
- You can play games offline and online
- You can write and even blog on a Kindle
- You can install thousands of apps from the Kindle store. The apps can do cool things such as tv streaming app, online games, news, piano and so on
- Check your email with ease. Yes, there is an email app
- Reading books. Whether you love reading books like the Bible, novels or magazines. Your Kindle HDX offers this ability
---
Comments:
Re: Introducing the Kindle Fire HDX series
Reply by benkid on Wednesday October 9, 2013 at 13:28:21: wow! thats cool but cant i get it anywhere apart from amazon?
---
Re: Introducing the Kindle Fire HDX series
Reply by Felix Okoli on Wednesday October 9, 2013 at 13:28:21: It will be more available globally on stores apart from Amazon by the time we enter December 2013
---