How to install Google Chrome on the Amazon Kindle Fire HD
KoliTech Nigeria
---
Home
|
Computers
|
( 1 )
|
Subscribe
Posted by
Felix Okoli
on Tuesday October 8, 2013 at 16:26:5: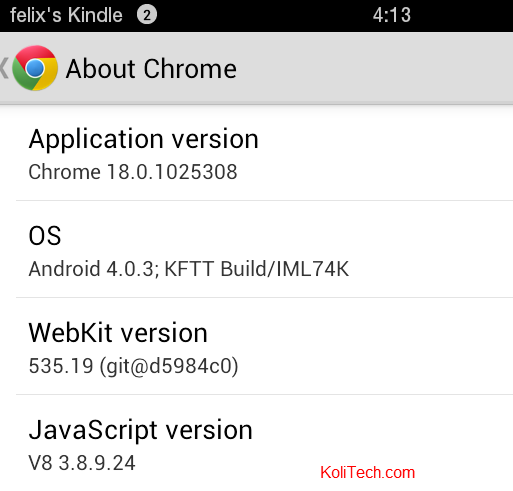 If you've got a Kindle Fire HD device or higher, for sure you might be glad that it allows you to browse the web at least by making use of it's default Silk browser. However, the Silk browser is not the only browser that can work on your Kindle as there are other Android browsers that can do the same job and probably much better. One of them is Google Chrome for Android.Google Chrome for Android is Google's own recommended internet browser for Android mobile phones and tablets and it is quite different from full Chrome version available for desktops. One thing I personally love about Chrome is the ability it offers you to synchronize your open tabs, settings and be able to import bookmarks easily to your browser once you are logged in. It also allows you to browse incognito(without saving your history) anytime you want.As the world moves from laptops to minis and tablets, there is also a growing number of new browsers on platforms such as Android and both Silk and Chrome work well on Android devices such as your phone or tablets. Not all browsers are the same and so there is also the growing need for people to choose which tablet or Android browser best works or them.Many of us started using the internet with Internet explorer and this was common among desktop users but nowadays, browsers like Chrome, Opera, Safari and Silk are among the top tablets browsers which a growing number of people are beginning to use. Nowadays, there is a growing love for the Chrome browser which is remarkably light, reliable and offers new options.Ordinarily, the Amazon Kindle Fire HD came with a Silk browser and it's practically the only browser available on Amazon's appstore, a store which Amazon says it can guarantee the best functionality for your device. However, Kindle users may opt to install third party Android apps from other stores at their own risk and without Amazon's guarantee.You can install Google Chrome browser on your Kindle Fire Hd tablet and be able to browse on it just like you do with Silk and without having to root your device. Rooting is one path I've chosen not to go with my Kindle since once is not sure what opening that pandora box could do to your device.Well, personally, I've installe Chrome on my Kindle Fire and it basically requires having the source .apk file before doing the installation. It works well in Kindle since it' basically built for Android platforms of which the Kindle is one of them. I'm currently using the Chrome for android version 18.0.1025308How to install Chrome on your Kindle Fire tablet
===============
- First of all, enable third party installations by going to settings > More > Devices
- Download and install ES file explorer for free
- Go to your computer that has an antivirus protection and search for Google Chrome for Android on file sharing websites. Version 18.0.1025308 or higher will do. It's not available on Kindle appstore yet.
- Download the Chrome for android apk file and scan for viruses
- Connect your Kindle to your computer and copy the chrome apk file to your internal storage and note the folder
- Open ES file explorer from your Apps > ES file explorer
- With third party installations still allowed, open the chrome apk file and install
- After installation, you can open your chrome browser by going to Apps > Chrome under Device and not cloud
- Sign into Chrome to sync your settings bookmarks and history.It works pretty well and don't make the mistake of installing older versions of Chrome since that may not work well on your device.
Other browsers available for Kindle Fire HD
---
Comments: