Apple iPad mini review
KoliTech Nigeria
---
Home
|
Computers
|
( 1 )
|
Subscribe
Posted by
Felix Okoli
on Monday October 14, 2013 at 8:40:32: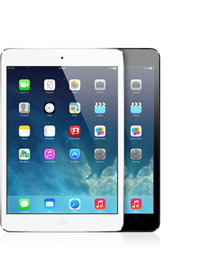 The iPad mini is one of the best selling iPad tablets in town and this is probably due to its small size and low price. Apple's iPad mini was introduced to help consolidate Apple's dominance over the tablet market as this has been facing some competition from names like Samsung, Google and Amazon.Apple's brand products such as the iPad are among the best selling products in the USA and also among the most expensive tablets as Apple's products are known for having high quality, the latest technology and a long life span.The iPad mini is not Apple's first tablet since tablets started taking over the PC market. It is a mini version iPad that came out in October 23, 2012 and in the 5th generation of iPads.According to Apple, a top name in the USA, the iPad min runs on IOS which is world's most advanced mobile operating system and used in most of their brand products such as the iPhone, iPod and iPad.
Features of the iPad mini
=============
Display: 7.9 inches
Fingerprint resistant
Camera
: It has a 1.2MP front camera and 5MP back camera. It can take great pictures and record 1080p HD videos
Connectivity
: iPad mini can work with WiFi hotspots, Bluetooth, GPS, 3G and GSM networks
SIM card
: The kind of SIM card which works on an iPad mini is a Nano SIM and not the usual SIM size used on GSM phones. Ordinary SIM cards would have to be reduced in size to get a Nano SIM which is
Battery life
: While a normal laptop battery may last for only 2 to 3 hrs, the battery on an iPad mini is designed to be more efficient as it can last for p to 10 hours before the need for recharging.
Siri
: iPad mini has a feature called Siri which is an intelligent virtual assistant that helps users accomplish tasks as if it were your secretary. Siri allows users to send messages, set reminders and do much more with just their voice.
Internet
: The iPad mini can also browse the internet using the Safari browser which is custom to Apple products like the iPhone. Safari browser can work with network connections on WiFi or 4G.
Apps
: Having an iPad mini gives you access to over 300,000 apps from Apple's app store. It also comes with lots of apps already loaded which allows you to do a lot of things from the start such as checking emails, send messages, use facetime and so on. You can also play games on the iPad mini and there are lots of cool games in the store.
Facetime
: This is basically an app that is installed on the iPad min that allows one to make clear video calls to other people using your local network. You can use Facetime so that people may see you and at the same time use the back camera to show them what you are seeing. It is one thing to make a video call from a normal phone but with an iPad, the display is much clearer.
iMovie
: This app allows one to shoot great HD movies using the back 5MO camera. The movies are great and turn out with good quality, good enough to be used in a real movie. You can also upload your videos to YouTube and gets lots of views just for the good quality.
iPhoto
: This allows you to take great looking pictures and also edit them locally on your device.
Thickness
: The iPad mini is really thin and the thickness is just about 7.2 mm in size. It is much thinner than the first iPad.
What is the price of iPad Mini?
: The least price you can get an iPad mini is at $329 which is for the 16GB WiFi only model. In Nigeria, $329 would be about NGN52,640 if using a N160 per dollar exchange rate. Adding other improvements or options to the iPad mini like 4G and more memory size can increase the price.
---
Comments: