Amazon unveils cheapest fire tablet under USD 50
KoliTech Nigeria
---
Home
|
Computers
|
( 2 )
|
Subscribe
Posted by
Felix Okoli
on Monday September 21, 2015 at 16:26:53: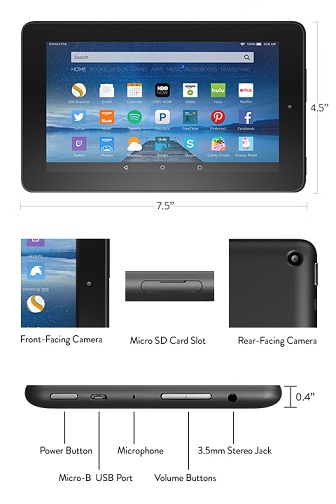 It's September 2016 and already there is a new fire tablet in town. It's not the Kindle Fire HDX or HD 7 we already know of but a new one produced by Amazon and it's simply called Fire. At a retail price of just $49,99, it's the cheapest tablet I've seen from Amazon and would probably be the most affordable android tablet in the world. Did I hear you say just $49.99? Yes I did and you can order for it today.The Amazon Fire tablet is an Android tablet that is customized to work with Amazon's online platform and it's basically a 7 inch tablet that is WiFi capable and comes with an internal memory storage space of up to 8GB. Don't just look at the internal storage as a limit but what you should be asking is whether it has the ability to use an external memory card and the answer is yes it does. Amazon's Fire tablet comes with the ability to increase storage space up to 128 GB through the use of a microSD card card but that's not included in the package.Basically, there are 2 things that makes me marvel at this newest tablet from Amazon and those are first the low price and secondly, the ability to use an external memory card. While I write this, I still have my Kindle Fire HD 7 which I got from Amazon some years back for $199 and it's still working but it somehow feels that this new tablet beats my old one since I can't use an external memory card on it and besides, I kinda feel cheated for spending that much to buy a Fire tablet when this new one is going for just $49.99.The Fire tablet can do a lot of the others things others Android and Amazon Fire tablets can do such as browsing the web, playing music, reading books, watching videos, email, games and so on. You will also be able to do online shopping on Amazon from the tablet as well as access content such as videos and music from the cloud.Are there any hidden fees? I think not for buyers in the USA because it comes with free shipping and all a buyer needs to do is just pay $49.99 to pre-order. I also noticed that Amazon is also offering a discount to buyers who buy up to 5 tablets. If you pre-order for 5 Fire tablets, you'd get one free and the discount code you can uses when checking out is
FIRE6PACK
.The ability to expand storage space on the Fire tablet is really a welcome idea and a good enough reason to buy the device. The only other Amazon tablets that I know up that allows storage space expansion up to 128GB are the Fire HD 8 and the Fire HD 10.It also comes with a mono speaker, does 720p HD video recording, has a single-band Wi-Fi and has a resolution of 1024 x 600 (171 ppi)Considering all the cool features which this tablet comes with, one wonders which other Android tablet in the market offers this much ans yet sells at a retail price as low as this. I guess this new Fire tablet is a killer for the competition.
Buy Amazon's Fire tablet today
---