Is Nova bouquet the most affordable Cable TV subscription service?
KoliTech Nigeria
---
Home
|
Entertainment
|
( 1 )
|
Subscribe
Posted by
Felix Okoli
on Thursday April 23, 2015 at 17:30:0: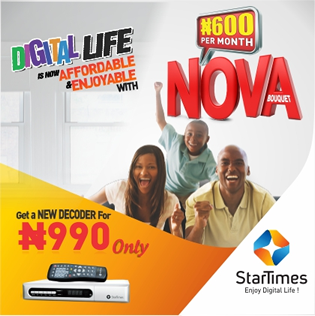 Cable Satellite TV bills seems to be rising gradually in Nigeria as the sector mostly dominated by foreign players tend to be influenced by foreign currency exchange rates.At a time when Cable TV plans in Nigeria seems to be increasing, Startimes Nigeria is probably the only Pay TV company that is reducing the subscription rates for their bouquets. Recently, Startimes has introduced a new bouquet or plan on their service and I have to say that this makes them the most affordable or cheapest cable TV service provider in Nigeria.Startimes' latest bouquet or plan which caught my attention is the Nova bouquet that comes at a ridiculously low price of just N600 per month. Given that the US dollar is now priced a bit above N200 locally, that puts it at less than $3 per month.Many Nigerians pay a good amount of money(about $40) on a monthly basis just to be entertained with a Pay tv service but the truth is that they don't really get to make full use of all the channels they've subscribed to. Does it really make sense to subscribe to a full blown Pay TV service that gives you over 100 channels and you only end up watching just 3 or 5? Well, why not save money and get a plan that just provides you with the basic channels you need. The Startimes Nova bouquet seems to be doing just that by providing a few channels on a budget friendly basis.
In the past, Startimes Nigeria only had 3 bouquets on it's service but in early 2015, they introduced a new one called the Nova bouquet and this comes with as much as 26 channels which are mostly local TV channels.List of Channels on Startimes Nova bouquet:
=================
001 ST Guide
101 NTA News 24
103 NTA Lagos
109 Silverbird TV
113 LTV
111 CHANNELS
114 NTA Lagos10
122 E-STARS
128 AIT
270 NTA Sports
150 ST Kungfu 1
162 ST Dadin Kowa
280 CCTV-NEWS
356 Childsmile
400 ST Music
451 TBN
452 IQRAA
123 REAL-STARS
165 NTA Hausa
166 NTA Yoruba
167 NTA Igbo
195 Wazobia tv
196 Cool tv
307 TVC NEWS
464 Dove TvWith the above list, I think there is enough to go round for just about anybody. Movie lovers will have a couple of channels to choose from and so will subscribers who love to watch news stations. There are also sports and music channels available on this simple bouquet. Kids can watch cartoon channels, ladies can watch Nigerian movies while men can watch sports and news channels. It's basically the most affordable family pay tv service in Nigeria that I've seen.The biggest bouquet on Startimes comes with up to 80 channels and costs N3600 a month. I think this Nova bouquet that comes with 26 channels for just N600 is a good deal you should not miss.There is now more more reason not to subscribe to a PAY TV service if you still belong to that group of Nigerians that don't do so yet and for those who already have other Pay TV service decoders, you could still complement them with this basic bouquet from Startimes and you don't even need a dish or external antennae to watch those TV channels.How to get started? It's simple. Just visit a Startimes office or dealer and first get a Startimes decoder. Last time I checked, it costs only N990 to get a decoder from Startimes. You will then have to subscribe for the NOVA bouquet to get your channels showing up.
---