Retractable micro USB cable by Lenmar
KoliTech Nigeria
---
Home
|
General
|
( 1 )
|
Subscribe
Posted by
Felix Okoli
on Wednesday May 14, 2014 at 11:58:51: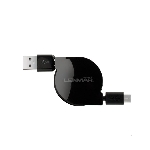 As most Smartphones and tablets nowadays come with micro USB ports, it's only fitting to also have a micro USB cable at hand for recharging your device.I recently bought a
retractable Lenmar Micro-USB cable
from Amazon and I'm loving it!When it comes to recharging my Android mobile phone, one of the most convenient ways I normally do this is by connecting it to the USB port on my laptop since I don't really like plugging my phone to a wall charger - It's a mobile phone and so I should always be with it. Since I use computers at the office, it only makes sense to charge my phone using their USB port.Most mobile phone batteries nowadays can be recharged with either a micro-USB cable or micro-USB charger but the latter needs to be separately plugged in to a wall socket. With a USB cable, you can just plug in into a secondary device. Since it can be hard taking a micro USB phone battery charger wherever your phone is, having a simple micro USB cable at hand can do the trick as long as you have a USB port to plug it into. Besides a micro-USB cable is also light and uses less space than a charger.I keep a micro-USB cable plugged into my laptop or at my desk for topping up my phone battery and this works whether there is a blackout or not. It taps power from the laptop's battery and keeps the phone's battery topped up.One problem that I'd been having however is the issue of having too many cables lying on my desk. The cables tend to take a lot of space and make my desk look a bit disorganized and so I needed to do a bit of adjustment.I recently got a
retractable micro-USB cable from Amazon
and that helped keep my desktop a bit tidy. It is basically the same as a micro-USB cable except that the long wires can be retracted or extended as I want.I had been looking for a good quality Micro-USB cable since the one I had was already bad and needed a replacement but when I browsed through Amazon, I saw a couple of them that had the added advantage of being retractable. Being retractable means that It can be shortened or extended as you want and still be able to do its job.Lenmar's seemed to offer the best quality and design I was looking for and still came at a discounted price of $9.99 even though it was initially listed at $20.99.
It no longer make much sense having a micro USB cable that is up to 3 feet long when you'd only need it to be 1 feet or less. With this retractable Micro-USB to USB cable, you can change the length as often as you want.How does it extend and retract? Well, if you want to increase the length, you just need to pull one end away from the other and it extends naturally. You can retract it back to its original shape or shorten it by first extending it to it's full length and allowing the inbuilt spring to spring into action. It is that easy!
---
Comments: