Easy Taxi allows Nigerians to connect with Taxis within their location
KoliTech Nigeria
---
Home
|
General
|
( 1 )
|
Subscribe
Posted by
Felix Okoli
on Tuesday July 22, 2014 at 17:0:40: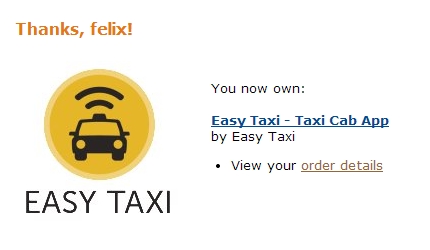 It can be really hard knowing where to locate a taxi park all the time or waiting to charter one on the road while in Nigeria but with the internet and a smartphone that has a revolutionary app installed, you can now do it quite easily.Easy Taxi is one cool app that makes it easy for Nigerians to call and charter a taxi from their current location to another destination and only pay what they can afford.Easy Taxi is a mobile phone App that works on both Android and Windows phones which allows users to download and install apps for free and then be able to use it to order for a taxi service within their locality.Already, there is a growing number of taxi drivers in Lagos and other Nigerian cities who are subscribing to the service. Guys should note that Easy Taxi doesn't own or operate the taxis themselves directly yet nor do they employ the taxi drivers but it seems their only work is to connect taxi drivers and passengers together into doing business by means of their phone app which works with Google maps.
How does it really work?
How Easy Taxi really works is that since it already has a lot of taxi drivers using their app, a passenger will also need to download and install their app on their phone and then will be able to use the app to find the taxi drivers that are closest to their current location. Since the passengers will then know which Taxis are geographically more closer to them, it becomes easier to also use the app to now hail the taxi for a lift. It also seems that the Easy Taxi app has a table of recommended maximum fares within destinations in a city. This definitely would make it easier for taxi passengers to use it as a benchmark in knowing how much they are likely to pay at most although those recommended fares are still subject to negotiation between the driver and the passenger.Easy Taxi allows the clients to know which Taxis are closer to them and also know other details such as the Taxi's plate number, photo ID of the driver and so on.
Not Complex but still requires users to know how to use apps
Is Easy Taxi app really complicated? Well, I don't think so but I don't think all Nigerians would be able to use it but it can get really popular in growing cities like Lagos, Abuja, Onitsha, Ibadan, Benin and so on where there is a good number of educated and phone savvy people who are always paying for transport. However, I don't expect my parents to know about this service or how to use it since most old folks in Nigeria just use their phones for making and receiving calls. So, I think this Easy Taxi app is mostly targeted at modern day smart and mostly young people who know how to use mobile phone apps.One thing I love about the Easy Taxi app is that it's not limited to just one type of phone or offering their app on just one platform. You can download the app on several platforms such as Google Play, Samsung Apps, Apple store, Windows and even an online web page that can be use on your web browser.
Slight trouble with installation
============================
I think the hardest part with using Easy Taxi on your phone is actually getting the source file needed for the installation and this varies depending on the phone's Operating system.For those who might not know much about installing apps on their mobile phones, it can be a bit tricky and at times problematic. Actually, I don't consider myself a JJC but installing the Easy Taxi app was a bit troubling for me. It didn't work for me the first time I tried downloading it on my Samsung phone through the Samsung apps store link provided. I even tried following the Samsung apps store icon on my phone and still tried downloading it but I kept getting an error saying "Unable to download application. Not enough memory. Delete some items, or change installation location to memory card and try again"
Installing Easy Taxi on my phone
The Easy Taxi app installation file was just under 5MB and I had over 3GB extra in my memory card so I didn't quite understand the error message. I tried downloading it using my Samsung apps account and after downloading each time I get an error. However, since I normally also get my apps from the Amazon Kindle appstore, I luckily noticed that the Easy Taxi app was also available on Amazon's Kindle Store and you could use it on certain Kindle tablets but it was not enabled for my Kindle Fire HD except for my Samsung Android phone which I've also connected to my Amazon account.Since I'd already linked my Samsung Android phone to my Amazon account, I also tried searching for the app there and it was available to my phone. I then tried to download it using the Amazon appstore app on my phone and it worked. I did that by going to Appstore > My Apps > Cloud > Easy Taxi.
Installation and usage consequences
After the download, I was asked whether to install the app which will be able to access my messages, share my location, use my internet connection, make phone calls, and prevent phone from sleeping while using it, I chose "Install" and it progressed to the installation stage. The Easy Taxi Application installation was successful. I guess the hardest part was actually downloading the file in the first place. The installation and usage are much easier. When you choose to install the Easy Taxi app, it means that your location can be tracked once you use the app and you phone will also be using data which you'll have to pay for separately depending on your data plan. Using the Easy Taxi app itself is free as far as I know but the only costs you might have to pay for apart from the taxi fare is the data consumed by the app. You can always save your data by closing the app when you are not using it.
Using the Easy Taxi App
After the installation, I opened the Easy Taxi app and was surprised that it already tracked my location almost correctly and provided a button that says "Request Taxi". I then corrected the street by just moving the map to the correct street by ensuring the street was directly in the center and under the passenger icon. The next step was to order a Taxi by clicking the Request Taxi button. A person will first need to get registered before fully using the app to order for a taxi ride. The app is so easy to use as the steps are self explanatory.
How does Easy Taxi then make money?
Given the useful app they've provided Taxi users in Nigeria, one might be wondering how these guys then make their money. Well, it seems they have a working arrangement with the taxi drivers already signed up for their service and so might be collecting a commission based on fares they've helped the Taxi drivers to get from passengers who used the app.
Mobile Phone requirements
It mostly works with smartphones that have enough memory space, have an internet connection and have GPS capability. Tip:
======
If you are going to be a frequent user of Easy Taxi, I recommend you just subscribe to prepaid data plan such as a monthly one rather than using a Pay as you Use plan since the former will save you more money on data used with the app.
Getting Started
: Just visit
Easy Taxi Nigeria website
with your mobile phone and download the Easy Taxi app that suits your phone.
---