Oxygen WiFi review
KoliTech Nigeria
---
Home
|
Internet
|
( 1 )
|
Subscribe
Posted by
Felix Okoli
on Monday November 4, 2013 at 11:41:5: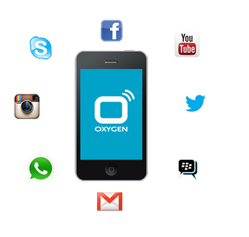 There are not many commercial public WiFi providers in Nigeria but one of them named Oxygen is doing pretty well in it's field.Oxygen broadband networks is a public WiFi hotspot provider that allows subscribers to access its internet service through a wireless medium.With the growth in the use of tablets and smartphones like the Apple iPad, Samsung tab, Amazon Kindle and the Chinese brands, there is a also a growing market for wireless broadband services and this is what's probably motivating providers like Oxygen to cover many cities across Nigeria.Already, subscribers can now subscribe and use the internet at broadband speed without having to pay on a data used basis. As you might already know, most internet services being provided in Lagos are based mostly on a data used basis. With the advent of Oxygen broadband, one can now browse the web at a fast speed and not pay on a data used basis. What you get is unlimited downloads based on a time used basis.Personally, I've always being an advocate of a time based broadband service rather than the data plans being offered by many GSM companies in Nigeria. At times, even data plans can be so slow that you would rather pay for downloads if they can at least be faster. This is where Oxygen comes in. It's fast. It's really fsstt! My first experience with Oxygen Wifi happened at the Shopping mall after I was invited to test their service by a sales personnel. Well, since I had a Wifi capable laptop, I decided to try them out. To start using Oxygen's hotspot, you need to first get connected to their WiFi hotspot and then click on the registration. Provide your valid details and use your mobile phone number and a 4 digit PIN both of which will serve as your log in details.After registration, you would probably get a free browsing time frame but later on you'll have to be buying tickets.Tickets or PINS are normally sold and based on a time allowed basis meaning that you'll be charged based on the time you used rather than on the data downloaded. This is cool if you ask me. The tickets also has a validity period which is quite short if you ask me.Once you have some credit in your account and are logged in, you can try accessing the web within the area covered by the hotspot. I noticed that downloads were much faster when your signal if fuller than when it is smaller, so one tip it to go closer to where the signal is fuller to get the best service. How much does it cost? Well, the first time I joined, it was N250 per 3 hrs but now the price has increased to N500 for 3 hrs and a validity period of 3 days. However nowadays, I prefer going for the N1500 plan since it lasts for up to 20 hours and a validity period of 2 weeks How to recharge:
================
Just visit an Oxygen counter in the mall or outlet and pay for a ticket. You should log into your account immediately and enter the PIN just to ensure that it works before leaving the teller. I've had a situation one time when a PIN sold to me was already used and I lost the money since they barely did nothing about my complaint. Also make sure you always collect a ticket before paying rather than letting them type in the PINs for you. Some of Oxygen staff are not that honest! That's the Nigerian factor.Where you can find Oxygen:
=====================
They are present are most shopping malls and Chicken republic outlets in Lagos. They are still spreading and who knows if they would be coming to schools too. Oxygen WiFi at Chicken republic
===============
One of the recent innovations I noticed about Oxygen is that they've also deployed their hotspots to include some Chicken republic outlets and I used the one at Bode Thomas Surulere. Every customer that spends at least N650 on a meal would get a complimentary 30 mins free credit on their network. You'd have to ask for your free Oxygen ticket when collecting your meal. The last time I went, the personnel gave me an already used PIN and I was pissed. She said she couldn't do anything since that was the last ticket they had. Well, I don't think I'm going back there soon since there are no guarantees you'd get a valid ticket. I'm sticking with buying ticket at the shopping mall for now and avoid expecting freebies at Chicken republic. The issue of buying Oxygen tickets
=======================
I think Oxygen broadband need to deploy other channels for the selling of their tickets rather than just through agents located at shopping malls. It is hard to find tickets to buy on weekends and the evening since their office would have closed. They should try selling it through the internet/ATM like Quickteller or their own website. With PINs available online, subscribers would be able to buy PINS anytime without having to visit their agents who are not available at the desk for 24 hrs.
---
Comments:
Re: Oxygen WiFi review
Reply by Debo on Saturday May 24, 2014 at 14:46:55: Hello, Felix. I was just wondering, have you done a speedtest on the downloading speed of Oxygenbroadband and if so, does the speed exceed 2 Megabits per second? I would like to know so that I can use it to upgrade my laptop operating system from Windows 8 to Windows 8.1.
Thanks for your anticipated help and keep up the good work.
Debo from Ibadan
---
Re: Oxygen WiFi review
Reply by Felix Okoli on Saturday May 24, 2014 at 14:46:55: Well, I did a speedtest on Sunday and was able to get up to 1.80MBps for downloads. It was fast enough.
---