Is Oxygen Broadband dead?
KoliTech Nigeria
---
Home
|
Internet
|
( 2 )
|
Subscribe
Posted by
Felix Okoli
on Monday December 1, 2014 at 12:9:28: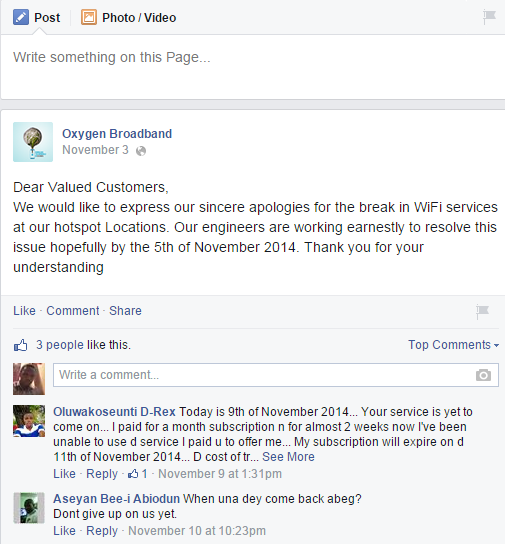 The last time I used Oxygen Broadband's wireless internet service was at a Chicken Republic restaurant and I could still remember that I had come credit left over and I also did remember that my time based browsing credit had about 2 hrs or so left which was meant to expire in 30 days. Unfortunately, even before the month went half way, Oxygen Broadband went A.W.O.L. and I felt like I've been scammed.My big question then was whether I was going to be refunded when their service comes back online. Well, I was hoping that the service would come back after a few days or 1 week but alas, that was not to happen as it's already past 30 days and Oxygen Broadband's WiFi service is still missing.There are not many public WiFi services available in Lagos Nigeria and the few of them that do exist were not so public as Oxygen Broadband was. Why does it have to be a Nigerian factor for Internet service providers to disappoint people only after people have paid in advance for their service?Well, i won't say Oxygen Broadband is the first internet service provider to go missing in action or to disappoint prepaid customers as I've also experienced the same problem with Starcomms. However, Oxygen Broadband's case has been going on for too long and it's about time they come back again because we are missing them already.I loved Oxygen's Wifi services when it came newly as it was really fast and came with unlimited downloads since it was a Time based internet service unlike what most other ISPs offered in Nigeria. With Oxygen's service, I could browse on sites like YouTube and stream videos on Amazon without having to feel like I'm over using my data since there were no data caps. It was also really much faster and the only rival I had then was my MTN Hynet 2MBPS service.Actually, Oxygen's Wifi service prior to their going missing in action(M.I.A.) was a bit epileptic as there were days when I couldn't browse with them and there were also good days. However, it seems the final show ended in the first days of November and even the company posted an apology on their Facebook page. However, according to them, they were hoping to restore the problem within a few days but this has stretched to over 30 days plus now. This is no way to run a public service and still expect to get trusted by people.I'm not sure when they are going to come back but it was fun while they were active and I guess for now, Wifi subscribers in Lagos who have been disappointed by their public Wifi service might end up getting their own personal Wifi service for their own use. Nowadays in Nigeria, there are a growing number of private Wifi internet services available to people and while some of them are portable/mobile, some are fixed.The only problem I have with most of the private Wireless internet services in Nigeria is that they come with a data cap and that's why I still miss Oxygen broadband's internet service. I hope they don't just die yet.
---