Tecno Phantom A2 Review
KoliTech Nigeria
---
Home
|
Phones
|
( 1 )
|
Subscribe
Posted by
Felix Okoli
on Thursday October 3, 2013 at 8:36:20: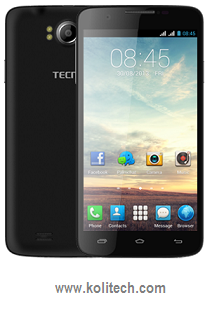 Tecno products have recently been dominating the market especially in Nigeria when it comes to Android devices. They have proven themselves over and over again, by bringing out new devices to correct or out-do the already existing devices in the market. This Phantom A2 is actually an improved version of the already known Tecno Phantom A1 phone.
Screen display
: The Phantom A2 comes with a 5.7 inch display screen. So the phone is recommended for those who prefer a large screen display powered with screen touch ability.
SIM
: It is a dual SIM phone meaning that you can use 2 networks on the phone at the same time.
Connectivity
: Although it can access the internet faster by connecting to a WiFi hotspot, it also supports 3.75G, 3G and 2G networks respectively. It also has bluetooth capability which allows it to pair with other devices and computers to send and receive files within a 10 feet range.
Operating system
: The operating system runís on the latest Android 4.2 jelly bean and with a 1.2 GHZ quad core processor, which makes it more faster and smarter.
Battery
: It comes with a battery life of 2630mAH which is a great improvement when compared to that of Phantom A1.
Memory
: It has an inbuilt memory of 4GB which can be expanded to 32Gb with an external microSD card.
Android Apps
: The device comes with some already installed apps like Facebook, Whatsapp, Skype etc while other apps can be easily downloaded from the android play store.
Camera
: It has a 13 MP camera of this device is one of the great improvements of this device. This allows it to capture images clearer but it's mostly more effective during the day but it can also capture at night because it comes with a flash light.
Other specifications of Tecno Phantom A2 phone
========
Listed below are the summary of the specifications or features of the new Tecno Phantom A2:
Network: 3.75G, 3G and 2G.
Operating Systems: Android,
Sim: Dual Sims,
Width: 82 mm,
Height: 160 mm,
Camera: Primary Camera 13 MP & Secondary Camera 8MP
Battery: 2630mAH
420 StandĖby time,
17 Talk Time,
Memory: Expandable up to 32 G,
Bluetooth: 3.0,
USB:2.0
WiFi: Yes
Edge: Yes
GPRS: Yes
FM radio: Yes
Doc viewer: Word, Excel, Power Point and PDF
Maps: Google maps
Browser: Chrome
Video: MP4 ans 3GP are supported
Music: MP3 and ACC, WAV, MIDI are supported
Some Outstanding attributes that makes this phone a must buy
:
==============
- Every feature that makes a phone smart, fast and portable is included in this new phone from the stables of Tecno.
- The camera size of 13 MP and 8 MP are a great advantage to this phone.
- The devices running on the latest 4.2 Android Operating System and the quad core processor makes the device faster and smarter.
- Due to the larger display screen, the Keyboard is more spacious and easier to use when typing.
Some Run Downs of this Device includes
:
====================
- The inbuilt memory of 4GB is not a pleasant attribute to this device more memory space should have been provided.
- The RAM size of 1GB that comes with the device is not OK. Tecno should generally work on their RAM size. A device with this kind of specification is expected to house at least 2GB RAM size.
- It doesn't allow for operating system upgrade like other android devices and competitors like Apple or Nokia.
In summary, this phone is one wonderful device that anybody seeking for a faster, smarter and not so costly device should get. You would definitely get full value for your money.Estimated price in Nigeria: NGN40 to 45k
---
Comments:
Re: Tecno Phantom A2 Review
Reply by achema ezekiel-Makurdi on Tuesday October 15, 2013 at 21:51:12: our world is gradually turning upside down. It is a pitiable, dismal and absymal that the 'haves-not' are now competing with the 'haves'. it is a regretable lugubious that a phone worths from N80K and above is been sold just for N40K or less. We are gradually moving to era of universal equity. Tecno - carrying the poor along. More kudos to all tecno excutives and engineers.
---
Re: Tecno Phantom A2 Review
Reply by Oluwadunsin on Thursday October 24, 2013 at 18:13:48: Tecno please ride on°
---
Re: Tecno Phantom A2 Review
Reply by Martin on Sunday October 27, 2013 at 16:11:33: It doesn't have a flash?
---
Re: Tecno Phantom A2 Review
Reply by Loadedleke on Tuesday October 29, 2013 at 12:12:55: The camera has a flash and goes for about 45K
---