Samsung Galaxy S4 Review
KoliTech Nigeria
---
Home
|
Phones
|
( 1 )
|
Subscribe
Posted by
Felix Okoli
on Thursday October 3, 2013 at 9:3:24: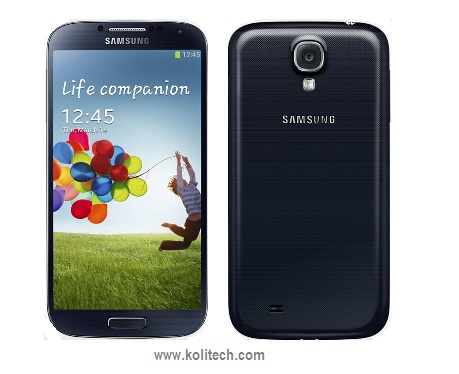 This is one of the devices from the stables of the Samsung Corporation and from the Galaxy family. This device is nothing less than a wonderful smartphone.
Here are some of the specifications of the Samsung S4 device
==============
Sleekness
: The device is sleek, slim and the outer body is made of made of plastic and light in weight.
Operating system
: It runs on the latest 4.2.2. Android jelly bean Operating System with a quad core processor 1.6GHz and 2 GB RAM.
Battery
: The battery of the phone is not inbuilt, but removable, which makes it easier for it to be replace, in case anything happens to the primary battery.
Water resistant
: This new device is also water and dust resistance which means that it can stay up to 30 minutes inside water without it crashing so You don't have to worry about your phone dropping into water or any near by liquid, but it is not shock resistant.
Wireless charging
: The phone also supports the wireless charging, and also has an inbuilt Smart TV remote control.
Touchless screen buttons
: It also comes with the Air view operation, which enable one to scroll through the phone's contents and choosing options by just hovering your finger over the menu without actually touching the screen.
Memory
: When it comes to the memory, it came with an internal memory of 16GB which can be expanded up to 64 GB.
Camera
: It has both a front and back camera useful for taking pictures, recording videos and video calling. The front has a 13MP camera
The summary of the specification of the devices are
:
=====================
- Operating System: Android 4.2.2 Jelly Bean,
- Network: Supports 4G, 3G,2G.,
- Sim: Micro Sim,
- Height: 136.6mm,
- Width: 68.9mm
- Weight: 130 gram,
- Camera: Primary Camera: 13 MP and Secondary Camera:8MP.
- Memory: Internal, 16 GB, and expandable to 64GB.
- Battery: 2600mAH
370 Stand by hours
17Hours talk time.
- GPRS:Yes
- EDGE: Yes
- WiFi:Yes
- Bluetooth:4.0
- USB:2.0
Some of the pros or the many features that makes this device unique includes
:
=======================
- The camera which is 13MP makes pictures taken with this device to look sleek clear, and awesome.
- Another reason why this device is a must have is because, the display surface of this device looks so Great with a wonderful inbuilt graphics and Sleek physical features
- The water resistance feature added to this device makes it very unique, and more safe when using, because you care much less about water damages.
- The phone has LTE feature and enables the 4G network. This makes browsing and surfing the internet so far when using this device.
Some turn downs of the Samsung galaxy s4 includes
:
=======================
- Despite the water resistant feature that it has, this device is not shock absorbing
- Battery life is just not that so great when compared to the features it has . A 2400 mAh battery on a device that supports LTE is not encouraging.
So in all, this phone is one heck of a devices that comes with many unique features and apps such as the Air View Operations, Water resistance and wireless charging. It is a very good device to have with you all the time.
---
Comments: