MTN offers phone upgrade to Lumia 625
KoliTech Nigeria
---
Home
|
Phones
|
( 1 )
|
Subscribe
Posted by
Felix Okoli
on Wednesday October 9, 2013 at 10:59:26: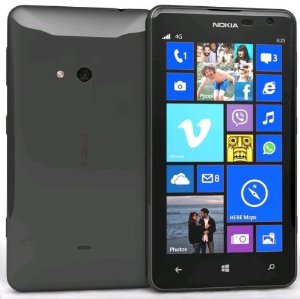 Nokia Lumia is in town and is the most marketed Nokia phone now in Nigeria. If you are on the MTN network or other network and willing to port over, well, MTN Nigeria is making an offer to people who would want to upgrade their phones to the Nokia Lumia phone.How this works is that you simply bring your old Nokia phone and MTN sim along with you together with the battery charger and then you'd get a new Nokia Lumia with a discount of N18,000 off it's original cost.I wonder how they are able to do this and the good thing is that they didn't really mention any specific Nokia models that are acceptable. It probably means that you could even bring a Nokia 3310 and still get a Nokia Lumia from them at a discount.What is basically requires is for subscribers bring in their old sets and pay and additional fee that has been discounted to get the new Nokia Lumia 625 phone which will then be at a price that is quite lower that what you'd find at the open market.The Nokia Lumia series is the latest series of Nokia phones in Nigeria and it's a smartphone that works quite fast and powered by Windows mobile. It has a powerful 5mp camera that is good to capturing hd videos and pictures. It can browse the web, play mp3s and mp4s as well as supports wireless charging.I think this is a good offer for people who may be looking to get the nokia Lumia but don't know what to do with their old phones. Well, now they can take advantage of the phone swap option being offered by MTN Nigeria. This will certainly take the stress of people who are used to selling their old phones for much less before buying new phones. N18,000 really is a good discount.Want to get an ugprade? Then go to an MTN office close to you. I think MTN Nigeria are the only networks that have partnered with Nokia for now.
---
Comments:
Re: MTN offers phone upgrade to Lumia 625
Reply by doris on Saturday October 12, 2013 at 18:16:41: This is very exciting but I would like to know how much one is finally going to get to get the phone
---
Re: MTN offers phone upgrade to Lumia 625
Reply by Charles on Friday November 1, 2013 at 14:12:40: Yes,like i have nokia asha 311 model.how much extra will it cost me to get this so called Lumia phone?
---
Re: MTN offers phone upgrade to Lumia 625
Reply by Felix Okoli on Friday November 1, 2013 at 14:12:40: Just take it along with the charger and you'll get to know. MTN has not announced how much exactly they are offering the phone which means it may vary from time to time or based on market prices
---
Re: MTN offers phone upgrade to Lumia 625
Reply by israel on Friday November 8, 2013 at 21:23:37: How much will you pay if you are using asha 311.pls urgently
---
Re: MTN offers phone upgrade to Lumia 625
Reply by paul mungu on Sunday December 8, 2013 at 19:13:34: how much will you pay if am usin nokia E5
---
Re: MTN offers phone upgrade to Lumia 625
Reply by JAMES PROMISE on Thursday March 6, 2014 at 20:10:13: I WHAT to know HW MUCH well i pay if i what upgard mtn phone to other version
---
Comments:
Re: MTN offers phone upgrade to Lumia 625
Reply by chukwuka on Wednesday December 31, 2014 at 8:2:22: how much will u pay if u ar useing E5
---