Sony Xperia Z smartphone review
KoliTech Nigeria
---
Home
|
Phones
|
( 1 )
|
Subscribe
Posted by
Felix Okoli
on Friday October 11, 2013 at 17:21:11: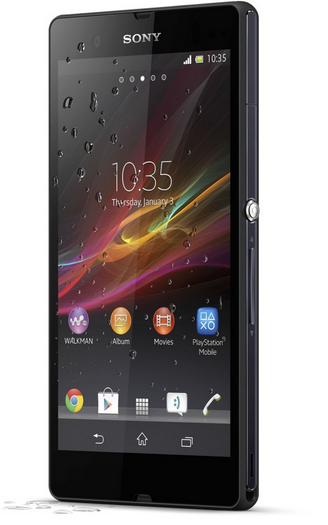 Sony's Xperia Z is a great device from the Sony Company It is a smart Android phone that was released in January 2013. The Sony Xperia came with some new technology and has set some pace in some features that was introduced to the device.
The physical attributes of the device, was built to be eye catching. It comes with a screen that measures 5 inches diagonally which is slightly bigger than a smart phone and smaller than a tablet, that cannot easily be fitted into an average sized pocket, and has a resolution of 443 pixels per inch (PPI) while the front and rear sides are sandwiched inside a glass. The Xperia comes with a 1.5 gigahertz quad-core processor of 2.2GHz, 2GB RAM. It runs on an Android 2.1 which can be upgraded to the Android 4.2.2. It comes with a Memory capacity of 16GB which can be expandable to 64 GB. It has a battery capacity of 2300 mAh which has 530 standby hours and 14 hours of talk time. The Sony Xperia Z is the first device to introduce the water resistance feature, and also has a dust proof feature.
Summary of the specifications:
===============================
- Operating System: Android OS, v4.1.2 Jelly Bean and Upgrade-able to 4.2.2- Network: 2G, 3G , 4G LTE.- Sim: Micro sim- Height: 139 mm- Width: 71 mm- Weight: 212 grams- Memory Space: Inbuilt 16GB Expandable 64GB - Camera: Primary Camera 13.1MP Secondary Camera 2.2 MP-Processor/CPU: Qualcomm MDM9215M / APQ8064/Quad-core 1.5 GHz Krait-RAM:2GB
-Battery Capacity: 2300 mAh
530 standby hours
14 hours of talk time-Bluetooth: 4.0-USB: 2.0-EDGE: Yes-GPRS: Yes-WIFI: Yes Major Pros of the Sony Xperia Z includes:
===========
- It has a very fast processing speed powered by the 4G network and an easier multi tasking feature enabled by the LTE.- The powerful mega camera of 13 MP that came with some other features such as superior auto makes your image snapping experience awesome- The Sony Xperia Z has a dust proof and water resistance feature. So you donít have to worry about dust and water any more. Cons of The Sony Xperia Z:
================
- The battery life is just in the average. Sony can do better in their battery capacity- The other fault has to do with the battery too. The battery is non removable. So it canít be easily replaced when it develops fault- The Xperia Z doesnít have underwater mode, which can be found other device that has water resistance feature.- The size of the Sony Xperia Z makes it less portable. It canít easily fit into your pocket as you are on the go. In conclusion, is a smartphone that has all the fast features needed in a new generation smart phone The dust proof and water proof features reduces the worry about how you handle the phone.
---
Comments: