Blackberry Q10 review
KoliTech Nigeria
---
Home
|
Phones
|
( 1 )
|
Subscribe
Posted by
Felix Okoli
on Friday October 11, 2013 at 17:31:40: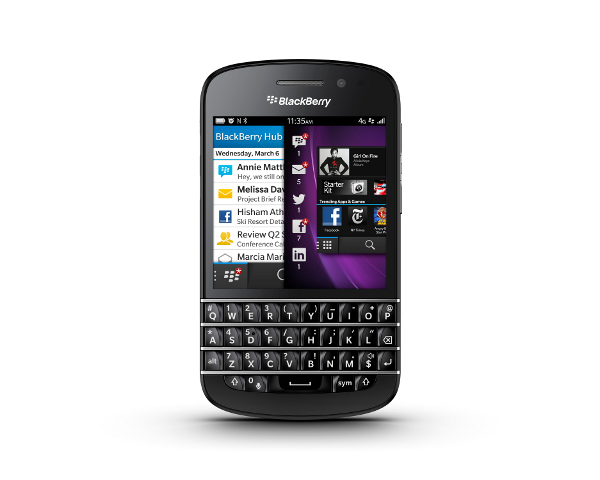 This is the second device produced by the Blackberry Company that runs with the newly developed Blackberry 10 Operating system. After a long period of lying low, The Canadian company introduced the Version 10 of there devices, and it slowly brought them to the top list of smart phones in the market. The Q10 comes with a Qwerty Keyboard key and a 3.1 inch display screen, which is a good relief for people who hate the touch screen keyboard display, but have no choice than to use them, because, nearly all smart phones in the market right now, come with a touch screen pad. The Blackberry Q10 cover is entirely made from plastic, but with a solid weight of 139 grams, you get to feel solidity of the device. Coming to the internal features, Blackberry Q10 comes with a 1.5GHz dual-core Snapdragon S4 Plus processor, 2GB RAM and a 16GB of expandable storage using a microSD card slot which can be expanded up to 64 GB, an 8-megapixel camera sensor and a 2-megapixel front-facing camera.Summary of the Specifications:
==============================- Operating System: Blackberry 10 OS, which is Upgradeable to v10.1- Networks: 2G, 3G, 4G LTE- Camera: Primary 8MP and Secondary 2MPHeight: 119.6 mmWidth:66.8 mmWeight:139 grams- Memory space: Internal 16GB and Expandable to 64GB- GPRS: Yes - WIFI: Yes- EDGE: YesCPU/Processor: Dual-core 1.5 GHz Krait (LTE version)/ Cortex-A9) / Snapdragon S4/ TI OMAP 4470Battery: Inbuilt 2100mAh 360 Stand by hours 13 hours 30 minutes talk time- Bluetooth:4.0- USB: 2.0Some Shortcomings of the Blackberry Q10:
=======================- It has a smallish screen display. This is because, the Qwerty Keyboard took up majority of the space in the front side of the device.- Despite the efforts made by the Blackberry corporations, to get more apps develops for the new BB10 Operating system, the number of apps in the BB platform is nothing to write home, when compare to other apps stores like Android and Apple store.- Though there was a major improvement on the battery life, its still on the average, when compared to other smart phones in the market. Coming to the unique features of the Blackberry Q10:
============
- The 4G network and LTE made browsing and multi tasking capabilities very fast- The QWERTY keyboard is very easy to get adapted to its usage. And itís a big relief to people whoa really tired of the touch screen display.- The uniqueness of the BB10 apps world is still a new discovering into the market. Though not many apps can be found there, built its uniqueness made it to stand out.
In all, if you are a loyal blackberry customer, who is still addicted to the QWERTY keyboard thing, and who loves an LTE enabled super fast device, this is the mobile device for you.
---
Comments:
Re: Blackberry Q10 review
Reply by olamide on Tuesday April 22, 2014 at 11:55:11: i need 2go on my phone now
---