Apple iPhone 5S and 5C unveiled
KoliTech Nigeria
---
Home
|
Phones
|
( 1 )
|
Subscribe
Posted by
Felix Okoli
on Wednesday September 11, 2013 at 9:11:32: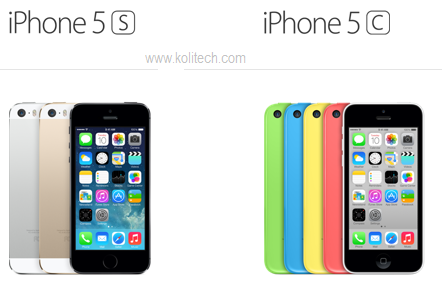 Just about a year after the iPhone 5 was released, Apple is releasing 2 other versions of the iPhone 5 and these are called the iPhone 5S and 5C.The iPhone 5s and 5C are the newest smartphones by Apple as far as 2013 is concerned and that probably stops the production of the old iPhone 5. But what do these new smartphones really have?According to experts, It is still basically the same like the old iphone 5 but there are some slight changes. While the Apple iPhone 5C is basically focused on price, the iPhone 5S has a bit more improvement over the iPhone 5.
iPhone 5S vs 5C
Colour:
=========
The 5S comes in 3 colours - Silver, Gold and Space gray while 5c comes in 5 colours - green, blue, yellow, pink, and whiteMemory Chips:
===========
5s has an A7 chip processor and an M7 motion coprocessor while the 5c only has an A6 chip processor
Touch ID:
===========
The iphone 5S has a fingerprint identity sensor that works with the touchcreen. The iPhone 5c and 4s don't have that feature. Camera:
=======
5C has an 8MP iSight camera while 5S has a wider cameraSIM card:
=========
5C and 5S smartphones work with a nano SIM while the 4s uses a micro SIM which isOther features
==============
The new iPhones come with other basic features of a smart phone such as Video recording, voice calling and internet connectivity(LTE, GPRS and WiFi).
Already, the official Apple website has said that customers can start pre-ordering for the new phones as from September 13 from their official store.The iPhone 5c which is the most affordable starts selling from as low as $99 if you are also going to buy a contract plan but unlocked versions starts from $549 for the 16gb model.The iPhone 5S sells from $199 with a contract plan while unlocked versions sell from $649.They both come with free shipping within the USA.The Apple iPhone 5C was developed mainly to target emerging, new and price conscious markets like China, India and Africa and the 5S is meant to be an upgrade toe the iPhone 5.Apple is hoping to make more sales from the release of these new iPhones in the market now that the shopping season is around the corner.If you ask me, I'd say that the iPhone is still a bit expensive to penetrate other markets outside the USA and these are people who would be willing to buy an unlocked smartphone under $100.
---
Comments: