Nokia Lumia 925 Review
KoliTech Nigeria
---
Home
|
Phones
|
( 2 )
|
Subscribe
Posted by Felix OKoli on Friday October 11, 2013 at 17:43:50: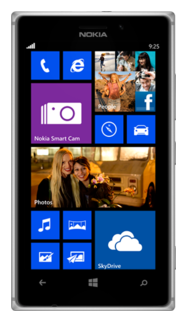 The Lumia 925 Nokia phone is one of the top smartphones in the Nokia Lumia family. This phone from Nokia can be said to be among the best, if not the best Windows phone available in the market right now. This Lumia 925 is a simple, but super quality device that comes with a whole lot of features and apps. It can rightfully be said that Lumia 925 was made to correct some of the flaws of the Lumia 920, and the end result isnít bad at all. I would mention most of the sophisticated features that was added to this simple looking but really powerful device.The Lumia 925 is one of the few mobile devices that runs on the Windows 8 operating system which can be upgrade-able to the WP 8 Amber, and has a1.5GHz dual core processor and a 1GB RAM. One of its physical features is that it comes with an 8.7 MP pure view and secondary camera of 1.3 MP, and a 4.5 inch display screen camera, the body is made of aluminum metal and the back side is covered with polycarbonate material and a Gorillas 2 glass at the edges. This gives it a weight 139 gram which is lighter than the Lumia 920. The device supports the 2G, 3G and Super fast 4G LTE networks. It has an average battery capacity of 2000mAh which can stand up to 440 hours of standby time and 12 hours of talk time. The device is customized with some Nokia Here Services, which comes with great apps such as the Nokia Map, Traveling information for major international countries and cities around the world etc Some Features Of The Lumia 925:
=============
- Network: 2G, 3G, 4G LTE- Camera: Primary camera 8.7MP Secondary camera 1.3 MP- Height: 129 mm- Width: 70.6 mm- Weight 139 grams- Memory Space: 16GB- Operating System: Microsoft window 8Battery Capacity: 2000mAh 440 hours of stand by time 12 hours 40 minutes talk time- Processor/CPU: Dual-core 1.5 GHz Krait/Qualcomm MSM8960 Snapdragon- GPRS: Yes- EDGE: Yes- Bluetooth: 3.0- USB: 2.0- WIFI: Yes- Charging: MicroUSB and Wireless charging are supported. The good side of the Nokia Lumia 925
================The Pure view camera that comes with the Lumia 925 gives an impressive quality of images.-The Nokia Here Service that come pre installed with lots of apps on it like the map, driving mode etc is a good traveling companion for travelers. So if you travel a lot, You need to get the Lumia 925- There is a great improvement in the physical structure of the Lumia 925, the aluminum cover and the polycarbonate back cover, gives the device an new sturdy look.
Negatives of the Lumia 925
==================
- Memory space of 16GB is a lack behind, when compared to other devices on the top platforms, who have learnt to increase their memory spaces to at least 32GB.- The inbuilt battery is still a no, in case the battery develops a fault; it would be next to impossible to get it change. And there is room for improvement in there battery life. Finally, I have taken you trough the wonderful features and also told you the minor faults of this great devices. It is a must have if you travel a lot, and if you love the windows interface.
---
Comments: