Shop on Amazon. Pay in Naira
KoliTech Nigeria
---
Home
|
Shopping
|
( 1 )
|
Subscribe
Posted by
Felix Okoli
on Saturday March 15, 2014 at 11:45:46: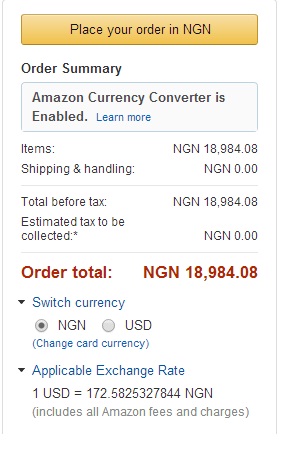 In Nigeria, there are a growing number of payment platforms and it's no longer cash as usual even though there still a number of our people who still carry Ghana must go bags.Nowdays it's common to see Nigerians making payments with their bank issued debit and credit cards which can be powered by Visa, Mastercard or Verve.When it comes to online shopping on international websites like Amazon, Nigerians can also now make payments with such issued cards even though the denomination is in Naira and I've had a personal experience at it.I'm used to shopping on sites like Amazon and eBay and in the past and paying in US dollars. Then, I've been used to funding my USD Visa and Mastercard in US dollars. Banks like Zenith bank and Acces bank helped in that regard as they gave me a US dollar funded Non personalized card for online shopping.The USD non personalized cards which most Nigerian banks offer come funded with US dollars and they are not necessarily linked to your bank account and so you don't have to worry about overspending and you can also get it same day as long as you bring your own dollars. Yes, the customer who wishes to get a USD prefunded card would have to source for foreign currency from Nigeria's black market just to get a card that can be used for online shopping at US websites like Amazon.com and this is why Naira Visa and Mastecards have made a difference.With a Naira card powered by Visa or Mastercard, one can also shop on Amazon.com and pay in Naira.I recently had an experience with this when I wanted to buy a laptop worth $110 from Amazon. Since I already had a US shipping agent, all I needed to do was to make payment for the laptop and expect it to reach my residence in Lagos within 10 working days.I had been using USD based cards in the past and so decided to try out a Naira Visa card issued by Union bank and this one worked well. Well for first time users, you'd need to tell your bank first to activate it for online use on US websites and also change your I-PIN on the ATM.The Naira Visa card offered by Union bank was linked to my bank account and all I needed to do to keep shopping was ensuring that funds were in my account and I'm using the card as my payment card.One of the things that really worried me about using a Naira Visa card on Amazon was because I wasn't sure about the exchange rate and whether it would be too far off from the official price. Well the good thing about shopping with a Naira card on Amazon is that you would be able to estimate the total cost in Naira before making payment and that payment would be reflected as the only debit in your bank account, no extra charges.Unlike the USD card I normally use for shopping on Amazon, I didn't need to pay any transaction fees or card funding fees. The only debit in my account was just the exchange rate value used for converting to Naira from US dollars.I first of all added the item to my cart and then proceeded to checkout after which I logged into my account and added the payment card. Amazon understood that it was a Naira Visa card and asked me to confirm if I wanted to be billed in Naira to which I immediately agreed by checking the button. I read my final billed amount for the $110 priced laptop and it was about NGN18,948 which was based on an exchange rate of NGN 172 to 1 USD.At NGN172 to the Naira, I think it saved me more money unlike if I were to have first bought USD at the black market at around N171 and still paid a transaction fee on my balance.I really love using Union bank's Naira Visa card for shopping on Amazon and the exchange rate used was really OK for shopping.Amazon now accepts Naira cards whether they are powered by Visa or Mastercard and you should get one at your bank in order to save money on your online shopping. Just tell your bank you also want to activate it for online shopping on US websites like Amazon and you'd be able to really see the power of your Naira when shopping on global websites and stores. Things you can buy from Amazon and ship to Nigeria
========
You can buy almost anything you want from the Amazon US store and ship it to Nigeria by making use of a
US shipping agent
. Things you can buy include any of the following
:
Apparel & Accessories
Appliances
Computers
Camera & Photo
Cell Phones & Accessories
Electronics
Jewelry
Musical Instruments
Shoes
Watches
Office Products
---
Comments:
Re: Shop on Amazon. Pay in Naira
Reply by marcus on Sunday May 25, 2014 at 20:27:29: Pls. How can I go about these? I.have first bank master card
---
Re: Shop on Amazon. Pay in Naira
Reply by Felix Okoli on Sunday May 25, 2014 at 20:27:29: It is a Naira card, tell your bank to activate it for global online use on sites like Amazon. Naira Mastercards are accepted on Amazon.
---
Re: Shop on Amazon. Pay in Naira
Reply by akposio on Monday June 2, 2014 at 21:2:56: My gtbank master card is a savings account. Will it be accepted also?
---
Re: Shop on Amazon. Pay in Naira
Reply by Felix Okoli on Monday June 2, 2014 at 21:2:56: You can use it but first your bank will have to activate it for online use. I think GTbank normally issues a token for that
---
Re: Shop on Amazon. Pay in Naira
Reply by anonymous on Thursday September 25, 2014 at 3:50:37: did say exchange rate of $172 was cool for online transaction? that was on a very high side
---