Check GTBank account balance using Facebook
KoliTech Nigeria
---
Home
|
Technology
|
( 1 )
|
Subscribe
Posted by
Felix Okoli
on Tuesday January 21, 2014 at 8:53:12: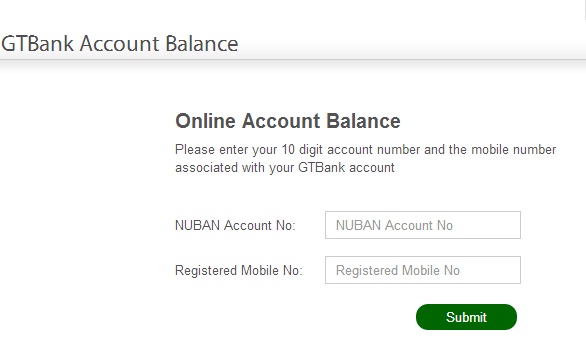 I just discovered that GTBank's facebook page now allows Facebook users and account owners to check their account balance using Facebook.The last time I checked, one could easily open a bank account on GTBank's Facebook page but now they are doing something a bit better - You can check your account balance.I don't know if this is for free and if they'd be some sms charges in your bank account later on by the end of the month so you should avoid trying to abuse the system.GTBank has a page on Facebook and on that page there is an app called
GTBank Account Balance
. This app allows GTBank customers to check their account balance and get the report through email and sms almost immediately. It is an automatic app that is connected to GTBank's computers and is designed to serve people automatically without the need to a human.I tried it out today and got a feedback almost immediately and without the need to call GTB customer service or use internet banking.I think, for most people who want to just check their account balance and can at least use Facebook, this is a cool app cause it saves you time and energy. Some people still go to bank branches just to inquire for their account balance.Normally, Nigerians are used to checking their account balance through a variety of ways such as ATMs, Customer service, internet banking, telephone banking and so on. With this new Facebook app from GTBank, they might as well get smarter.All that is needed are your 10 digit NUBAN Account number and your registered phone number. Once you are logged into your Facebook account and enter those details, GTBank will send you your account balance through sms and email. It is that easy.GTBank's Account balance Facebook app is one of the ways through which technology is making life easier.
---
Comments:
Re: Check GTBank account balance using Facebook
Reply by Doris on Friday January 24, 2014 at 8:6:32: It actually works. I just tried it for mine and got the balance by sms. Thank you
---